During Summer 2015 we picked up our tired 1969 Thomson Glen 2 BERTH Caravan from an ebayer over 100 miles away from home. "Bertha", as we then named her made the perilous journey back to Hertfordshire hitched to the back of our truck. Sam looking cautiously in the wing mirror all the way down the M1. Note to self: if we ever repeat this restoration exercise I will not bid on eBay whilst drinking cider, I will not bid on a caravan that is 100 miles from home, and I will not bid on one with a doggy chassis and a damp roof! And so "bertha" was parked on our drive and the restoration of the Woodland Weddings Caravan Bar began to the amusement of our neighbours.
Sam lovingly (cough) gave "Bertha" a new interior; new roof joists, a new ply board ceiling. We ripped out the damp interior leaving only the lovely old 1960s kitchen, one sofa, and the toilet intact. Meanwhile my mum and I covered the seating in new grey tweed upholstery and together we made twee little cushions and curtains to match. Using INDIAN SUMMERS 'WOODLAND IN PINE' fabric to create a Cowboys and Indian theme, found on Etsy.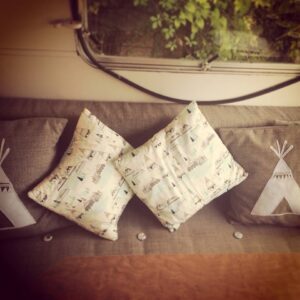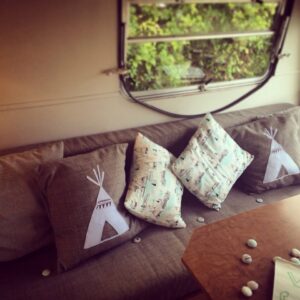 Next Sam set about cutting the hatch and installing a fully functioning bar transforming "Bertha" from caravan to Woodland Weddings Caravan Bar /come office. We gave her a lick of Farrow and Ball  paint to all inside areas to give the interior continuity.
The real fun began when we came to paint the exterior. With the caravan still on our drive at home we began tirelessly rubbing down, washing, sugar soaping and priming. It was time to apply three coats of Paragon Enamel Paint in 'off white' and 'sky blue', which I thinned with the same brand paint thinner. The August temperature rose to 30 degrees Celsius(as did my temper.) Then it poured with rain. Finally we came across a cool dry day and the farmer 3 doors up began harvesting his crops. Bertha was covered in dust and cereal. With the help of neighbours and general passers by we finally got the paint on. Bertha had become a community project!
Fridges were installed, as was a vinyl floor, sockets, and LED lights. All that was left was to have the front sign written by ACT Signs. The Wood Cutter's Bar was ready for business. 9 months on "Bertha" has a wifi hot spot and is able to take card payment through PAYPAL! What a journey she has been on….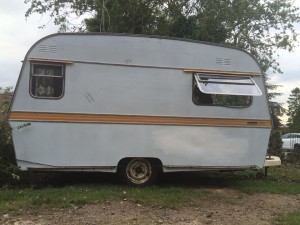 >